Budding Marijuana Company In Canada
Let's get right to it, Village Farms International (OTCQX:VFFIF or TSE:VFF) has the potential to be the low cost producer in the Canadian medical marijuana industry. This investment is based on stages of development, which I plan to explore with readers and let you know, in likely the most transparent way possible, how I plan to "play" this player in this promising industry.

Village Farms International has been a producer of cucumbers, bell peppers and tomatoes for most of its history. The company operates in the hydroponic greenhouse's industry and has facilities all over North America. It has a profitable history but had some recent issues as pricing has been weak for its core products. The big story here is that they decided to make a major play into the marijuana industry, announcing a 50-50 partnership with Emerald Health (OTCQX:EMHTF) for conversion of one of their main greenhouses in Vancouver (with option to convert more over time) which they refer to as "Pure Sunfarms".
This industry is becoming a major player on the Canadian market, and the medical marijuana market has been a promising area. The issue today is many of the major players are getting extremely expensive as the promise of legalized marijuana in Canada has investors salivating. This potential is not necessary to warrant an investment in Village Farms, but its potential (and the potential upside should that occur) may give us plenty of room to exit the investment should its return profile get too frothy.
Recent History & Expected Future
Since the announcement of the partnership, Village Farms's valuation has ballooned from $1.90 CAD to $6.90 CAD. This 263% return seems impressive, but when we consider the company's current profitability profile and its potential return profile, we see the company has room to grow.
There are several possibilities that play into deciding to invest in a "story" stock like this one that I factor into my decisions. The first is that this company's core business, prior to the announcement, has value. The company was a profitable operator and has recently paid off debt attached to the greenhouse under conversion through a secondary offering. This happened on December 4th at $5.40 CAD and was used to pay off debt and a little for business. The partnership agreement states they both own 50% of the combined entity, where Village Farms "invests" an unencumbered greenhouse (hence the debt paydown) and Emerald invests $20.0 million to convert the greenhouse (and for costs associated with licensing). Emerald brings the expertise regarding the medical marijuana market in particular, and Village Farms brings their greenhouse and low-cost operations. Combined we have a lot of potential, hence the price action.
Assuming that the company's marijuana operations fail to move forward, the core business is worth something. That stands as our base case (summary to follow).
The next major phase is completion of the greenhouse conversion that begins and ends with the first conversion. The new entity, Pure Sunfarms, continues operating as a purely Canadian medical marijuana company.
The next major phase would be conversion of the three main greenhouses that are positioned beside this converted greenhouse to recreational and medical marijuana in Canada.
The last major phase would be conversion of substantially all of their greenhouses to operate in cross border marijuana sales.
Phase I Discussion: What Value Is There Without Marijuana

Source (Greenhouse Grown | Village Farms)
I am not normally an investor interested in this type of investment, but I "discovered" it due to my interest in the core company, Village Farms. They operate in the hydroponic greenhouse industry, growing cucumbers, bell peppers and tomatoes for consumer purchase. They can grow year-round in controlled conditions utilizing less water than other production techniques. I believe this weather proofing will be instrumental to future food sustainability, and they are one of the few publicly traded entities operating in this market.
The company's core operations were struggling due to lower realized prices for their goods for the last year. This had depressed their valuation to the $1.90 CAD they were at the time of the announcement. I believe these were temporary issues, and continued weather disruptions represent a tailwind to future production over time. This case is our bear case though, and making optimistic projection is not the call here. The company issued equity and received about $13.5 million which reduces its debt position and provided added capital. They will lose production from that facility, but conversion back to regular production should be relatively quick once we know for sure whether the license will be approved.
Since the license has been approved for review, the review process has been streamlined and this partnership is one of the first to go through the streamlined review process we should know if this will happen relatively quickly. In this case, the company is likely worth around $2.00 CAD per share using a base case of benefit from the cheap financing countered by an estimation of continued pricing weakness. In this case, we would expect to lose approximately 71% of our investment dollars, though I am quite certain the possibility is extremely remote, less than 10% chance. This possibility goes to zero on the announcement that the company has been approved as a medical marijuana facility, bringing us to case two.
Phase II: The Partnership Operates but Does Not Grow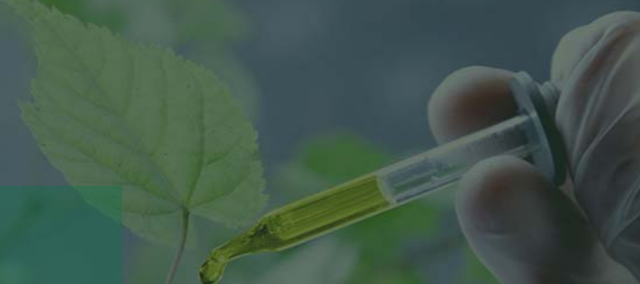 Source (Emerald Health Botanicals – Medical Marijuana)
As it stands, the company is projecting all-in cost of less than $1.00 per gram with annual production from the single facility of approximately 75,000 kg from their 1.1 million square feet facility. This has room to grow we will discuss in the next phase. Emerald, aside from contributing capital, is also contributing their marijuana products and genetic variations that have been approved for sale as medical marijuana already. I cannot make accurate assumptions of the quality of these products, so the assumptions will be based on the joint ventures predictions.
The $1.00 per gram, or less, production cost is what really intrigued me. The current low cost producer has an all in cost hovering around $2.00 per gram, making their product the natural low cost leader in the industry that typically sells (on the low end) for about $8.00 per gram. Although Aurora Cannabis (OTCQX:ACBFF) and others are building out capacity, Village Farms and Emerald are converting existing greenhouse space, making their time to market faster assuming the regulatory hurdles are met.
EBITDA margins for regular production (vegetables) is approximately 6.03% in 2016 and 7.18% in 2015. Due to weakness in Canadian operations, it was trending down, though the facility conversion is happening in Canada so that weakness should now be offset. The expected EBITDA margins should expand to more than 50% and sales should be between 10-15 times more, though we will use 50% for the number crunching and a revenue increase of 12.5 times.
They generated net sales of $155,502,000 USD in 2016; we will assume a EBITDA margin of 6.5% for greenhouse vegetable production and 50% for marijuana. Note I believe they can achieve better margins than this, but for the sake of argument and conservatism, we will explore at just 50%. I believe they can maintain these margins relatively easily since they will be the low cost producer and will not be generating too much of the market demand themselves.
Their total facility capacity is 10.5 million square feet, meaning about 10% of their net sales and lower margin vegetable production will be replaced with marijuana in this phase of production.
This leads to:
Here we have EBITDA growing to over $57.6 million on revenue of over $330 million. Bear in mind that these numbers are in American dollars for a Canadian company and that margins are 50% in this assumption, but I discount them in half as the company owns 50% of the new entity. Assuming valuation holds the same and is based on EBITDA (despite the higher EBITDA margins, better growth prospects and higher profitability), we have a company that could easily justify a price around $12.00 CAD, minus some for dilution. In this case, assuming the approvals go through but the options to convert further greenhouses does not go forward, we stand to gain over 40%, though I doubt the company will stop there. As it stands, I place the chance of meeting this hurdle above 90%, and the chance they pass it and stay there at less than 20%.
This entire exercise discounts the growth opportunity of using the income generated from this partnership to accelerate their other greenhouse operations into the future. It is a comparatively low margin business, but this is their bread and butter business for decades and can benefit from the scale these profits can afford them.
Phase III: Expands to Canadian Market, No Movement to American Market

Source (The New Canadian Cannabis Oligarchy | The Fix)
From here we get to the most realistic short term case, and where the bull market case is generated from. This is the most likely case, where they expand into the three greenhouses, but are limited to the Canadian market for the foreseeable future. Here we need to make some assumptions, particularly around margins. The issue here is that the entire Canadian market of cannabis producers is vying for the Canadian market, and that competition and greenhouse buildout might pressure margins. Although their low-cost production should stave off many competitors when they are operating one greenhouse, operating all three will make them capable of producing enough for a very large portion of Canadian demand (assuming demand does not jump much higher than now). This belief is rooted in a couple assumptions.
The Canadian black market will not disappear with legalization, though it will be tempered over time.
The margins on marijuana will decline over time.
Many producers are banking on the United States eventually following suite with legalization which is leading to overproduction. Should this not happen anytime soon, we might see prices get pressured.
I do not assume much growth in the overall demand for marijuana; those who use it are already using it. We will likely just see token increases from tourism and experimentation that will end relatively quickly.
With these assumptions, we will still assume all three greenhouse options are exercised, but margins for marijuana fall to 30% and revenue generated falls to 10x previous production.
The two optional greenhouses are a similar one that stands at another 1.1 million square feet, and another that is 2.6 million. In this assumption, I will assume the three greenhouses will quadruple production, instead of the 4.8x actual increase to remain conservative.
This leads to:

With revenue of $916 million and EBITDA of $126 million, we have an operation that should, again without investors crediting it with its new prospects, a company worth approximately 13x what it was prior to conversion, or more $26 CAD per share (assuming no dilution). I would estimate that there is a 60% chance of meeting this benchmark should they get accreditation.
Again, this P/EBITDA calculation was based on greenhouse production with a 6% EBITDA margin and low growth assumptions, making these calculations conservative in my estimation.
Phase Four: Endless Possibilities of America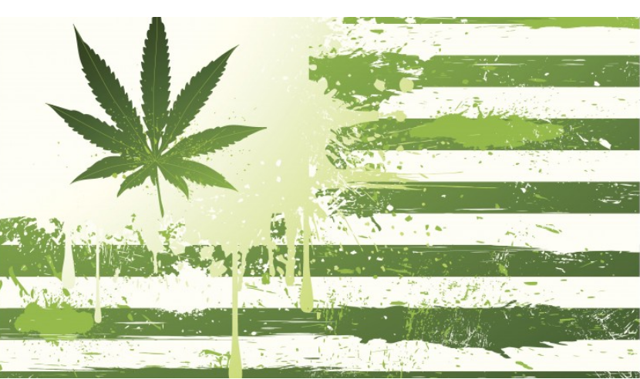 Source (Half of America Now Has Medical Marijuana)
When America finally wakes up to the potential benefit of medical marijuana, there is tremendous opportunity for a producer like Village Farms and Emerald to expand their footprint to Americans. They are already operating their greenhouses scheduled for conversion outside of Vancouver, allowing reasonably priced export potential, and Village Farms has greenhouse capacity in the US for conversion. I do not really want to run numbers for this possibility, as it would likely look ridiculous. Suffice to say, there is quite a bit of potential should a new administration reverse the decades long mistake of classifying marijuana in the same class as other hard drugs.
Comparison Company
Aurora Cannabis is likely the best candidate for comparison. They are operating in the medical marijuana industry and have built up capacity much like Emerald (Village Farms Partner) in regards to marijuana products sales and products (Aurora is larger, so I assume it has more, but Emerald is in the same field). Functionally the two entities, Emerald and Village Farms are similar to Aurora Cannabis in that the two together could be argued to function in effectively the same business line (particularly once they reach capacity and vegetable production becomes a small part of the overall business).
Aurora Cannabis has a market cap of $2.9 billion CAD, $1.91 CAD cost per gram, generates (projected from Q4) $23.6 million in revenues and is growing like a weed (they have ample cash but no net income as they are a serial acquirer of other companies). Realized price was $7 per gram.
Emerald Health Therapeutics (Village Farm partner) has a market cap of $419 million CAD, $845,000 of revenue and several a one facility under construction and one major facility licensed (the one from Village Farms). This company too has raised millions of dollars as they build capacity and invest in other producers, though they are not as active as Aurora. Revenue growth has been impressive, much as Aurora's has been.
Village Farms has a market cap of $270 million CAD, revenue projected above and a cost per gram of $1.00. Expected selling price is $8.00 per gram, though I ran more conservative numbers (there is a difference in product quality and pricing, particularly between dried and oil products).
Next year, when licensing is done and production begins Village Farms and Emerald will be approaching the scale and size of Aurora Cannabis, but with a lower cost of production. As Aurora acquires and builds new capacity out, their current capacity is high priced in comparison, and their scale advantage will be nullified.
How to Play
First of all, if you are considering an investment in any of these companies, I recommend purchasing on the Canadian exchange, the spread are much more reasonable.
So my plan when it comes to Village Farms is to use my expected return and only sell when the premium to my expected return becomes stretched. Here is what that looks like: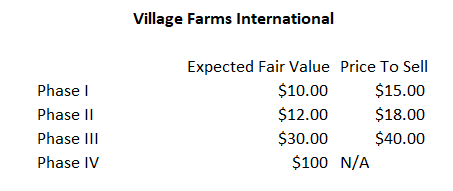 At the moment, I believe the fair value (with the risk involved) is about $10 per share Canadian. This compares to the current price of $6.90 CAD. This means I am willing to stomach a nearly 80% loss in exchange for the upside. This is the important part of investing in story companies, you need to be aware and ready to lose big in the hopes of making a return. If the price accelerated to $15.00 per share without there being official approval of the operation for medical marijuana sales, I would consider selling, as even in the bull case that return profile would be a stretch without knowing future market conditions.
Should they get approval to sell and begin to operate within Canada with just the one greenhouse, I believe the company is worth at least $12 per share. This price is based on them only operating within the medical marijuana industry in Canada without expansion (the price would go up more if we heard news that they were exercising the option to expand). If we did not hear about expansion, but the price accelerated to $18.00 per share, I would consider exiting.
Should the expansion plan proceed and the Canadian market opens up as expected, I believe the company's value balloons to $30 per share. In this case, I wouldn't consider selling unless there was still no indication of expansion into the American market (as in all signs point to it staying closed and illegal) then I would consider letting it go at $40. This is difficult to guess this far out so it gets less precise as we project out.
Should they expand and the American market appears to be opening up to medical and possibly recreational use, I would likely continue to hold the company forever as my allocation to medical and recreational marijuana in my healthcare allocation.
Risks
Licensing – The most substantive risk is likely if Pure SunFarms fails to acquire the licenses necessary for medical marijuana distribution in Canada. This is the major overhang for the company in the short term.
Competition – The Canadian marijuana medical marijuana market is expanding rapidly, with several major companies vying for a leading market position. This hurts operating margins, even for low cost producers.
Regulatory – Although I do not believe Village Farms is yet priced for this eventuality, most are priced based on cannabis being legalized in Canada. If this does not occur, the time-table is extended or it is legalized with onerus restrictions, it could affect the bull case and cause a correction, whether it would be justified for Village Farms or not.
Catalysts
Buyout Candidate – Should one of the more aggressive marijuana operators decide to purchase Village Farms for inexpensive access to their properties and the Emerald partnership, it may boost returns into the "sell" category relatively quickly, then it would depend on a re-evaluation to decide what to do next.
Addition to ETFs – ETFs tracking the marijuana market are now coming to market, and once Village Farms is added to them (they have been added to the newest one already) this may bring in extra investment to the company, boosting it as it approaches its full value.
Highlights – As authors and writers (such as myself) discuss the company and knowledge of the company's prospects spread, we should see the company begin pricing itself closer to the hurdle rates I am expecting. There are already articles talking about this move, but I have not seen many talking about just how much of an impact this foray into the marijuana market will have on Village Farms's EBITDA, which really helps make the case for the company.
Conclusion
As we can see, there is quite an impressive upside to a possible major marijuana producer entering the Canadian market. When you combine these operational possibilities with the popularity of Marijuana stocks in Canada, there is a case to be made for placing funds within companies like these to gain a return. The growth profile of many Canadian cannabis operators is impressive and has been accelerating their growth profiles for some time (revenue gains have been very high for many major producers). The largest are also beginning to acquire smaller competitors as they attempt to use their share price to gain a scale advantage over competitors.
I believe, as in all markets, the low cost producer is the safest way to play. The risk that Village Farms production capacity may not operate at the margins they expect will temper future returns, but with their low cost of production and experience running similar businesses, we can see them operating at margins other producers simply cannot. This gives investors tremendous protections on the downside, assuming the company's plans stay on course. We may never see $30 per share, but we will likely never lose value from current prices assuming they get expand production after they gain approval.
I imagine most investors interested in this company are awaiting approval before purchasing the company. This is a strategy I appreciate, though I believe there are gains left on the table for those that wait. In my mind, the risk of loss is worth that potential gain should the approval process go through. From there, it will depend on what kind of price Mr. Market is willing to pay. If it gets too rich, I'll exit.
As I said in my portfolio update, I would have held this company forever if they did not issue equity at these prices… Management decided to, and I applaud them both for the reasonable amount they issued and the reasoning, but I am more than willing to exit if prices run too far too fast.
Happy investing, or in this case, happy trading.
Disclosure: I am/we are long VFFIF.
I wrote this article myself, and it expresses my own opinions. I am not receiving compensation for it (other than from Seeking Alpha). I have no business relationship with any company whose stock is mentioned in this article.
Additional disclosure: I am long VFFIF on the Canadian exchange.
Editor's Note: This article covers one or more stocks trading at less than $1 per share and/or with less than a $100 million market cap. Please be aware of the risks associated with these stocks.
Original Article at https://seekingalpha.com/article/4131551-budding-marijuana-company-canada
[Winner] November 1, 2018 Giveaway (Episode 2)
Brady Shepherd wins our 2nd Rate.Review.Win! Giveaway!
hosted by Automatic Weapons
Automatic Weapons to host November CannaMaps Giveaway!
Rate.Review.Win! Giveaway Meme for November 1, 2018 hosted by Automatic Weapons.
Rate and Review ANY Listing on CannaMaps for a chance to Win $200 Diamond CBD Gift Card. CannaMaps shirt and some stickers!
Look out for other cool prizes coming soon from Hydrofarm via INDOOR GARDENS
Automatic Weapons is a band from Cleveland, Ohio as our guest HOST for this months LIVE SHOW at 4:20pm on November 1, 2018
Will mega marijuana deal get approval in New York?
ALBANY — The planned merger of two of the nation's largest cannabis companies is being closely watched by industry insiders in New York who are wondering just how state regulators are going to handle an acquisition that, on its face, seems to violate state law.
MedMen Enterprises and PharmaCann announced the $682 million deal to stockholders last week, noting that the acquisition would create the nation's largest cannabis company with licenses to operate 79 facilities across a dozen states, including two cultivation facilities and eight medical marijuana dispensaries in New York.
The only catch?
New York Public Health Law, which allows marijuana for medical use only, prohibits a registered marijuana organization from owning and operating more than four dispensaries in the state. The provision was designed to prevent market domination, even as some argue it limits access for patients who must travel to far-flung destinations to get their medicine.
In response to that concern, the state last year doubled the number of medical marijuana organizations allowed to operate statewide from five to 10 — a move that also doubled the number of allowed dispensaries statewide from 20 to 40.
The four-dispensary-per-company limit remains, however.
MedMen, a Los Angeles-based company known for its high-end marijuana stores, would acquire the assets and licenses of Illinois-based PharmaCann in the stock deal, though it must gain regulatory approval from local and state authorities in each of the markets where those assets are held.
"We are in talks with the regulators in all of the jurisdictions impacted by this acquisition, including New York," said MedMen spokesman Daniel Yi. "The first step in any acquisition is for the two parties to agree to the terms and enter into a binding contract. Then you go seek approvals from all the relevant regulators. We have begun that process now."
New York's Department of Health, which oversees the state's still-nascent medical marijuana program, said Monday that any merger proposal submitted to the agency for approval must be in compliance with state law. There are also requirements regarding ownership changes, said department spokeswoman Jill Montag.
"Regulations prohibit a registered organization from changing the composition of its ownership without prior written approval of the Department of Health," she said. "MedMen and PharmaCann do not have approval from the department to conduct this transaction, and at this time the department has insufficient information to determine if approval can be granted."
MedMen said it expects the transaction to close within six months to a year. It declined to speculate on its plans should New York reject the deal.
"It would not be proper for us to get ahead of the process," Yi said. "We are currently in talks with regulators and we feel confident about the outcomes."
In a news release issued Monday, MedMen said that it will use "commercially reasonable efforts" to transition licenses to a third party if it is unable to gain regulatory approvals within a two-year time span, with proceeds going to the company and its investors.
Founded in 2014 in Oak Park, Ill., PharmaCann was one of the five original organizations registered to operate grow sites and retail stores in New York, which went live with its medical marijuana program in January 2016.
The firm quickly became a major player in the industry, and today is considered one of the nation's leading providers of medical cannabis with operations in Illinois, New York, Maryland and Massachusetts, and planned expansions in Michigan, Ohio, Pennsylvania and Virginia.
Its facilities in New York include a cultivation center in Orange County and dispensaries in Albany, the Bronx, and Central and Western New York.
MedMen, meanwhile, had become a major player of its own, primarily out west, selling both recreational and medical marijuana. It entered the New York market last year when it bought out Bloomfield Industries, one of five original organizations licensed to operate in the state.
But it didn't garner much attention until this past spring, when MedMen opened its first dispensary in Manhattan on pricey Fifth Avenue. The move appeared to be a gamble that New York would soon legalize recreational marijuana, since the state's tightly regulated medical marijuana program is small by industry standards and unlikely to generate sizable revenues without significant expansion.
Indeed, New York appears poised to jump on the recreational bandwagon. Gov. Andrew M. Cuomo in January ordered a study into a regulated, adult-use program, and by June the Department of Health concluded such a program would have more positives than negatives.
A task force is currently researching and crafting legislation for consideration in the upcoming 2019 legislative session, and public hearings on the matter are being held statewide.
MedMen said Monday that it has consistently advocated for full legalization of marijuana, as well as an increase in the number of licenses and dispensaries.
"We believe that legal, regulated cannabis leads to safer, healthier and happier communities," Yi said.
Original Article at https://www.timesunion.com/news/article/Will-mega-marijuana-deal-get-approval-in-New-York-13311377.php