Canada could make billions from legal pot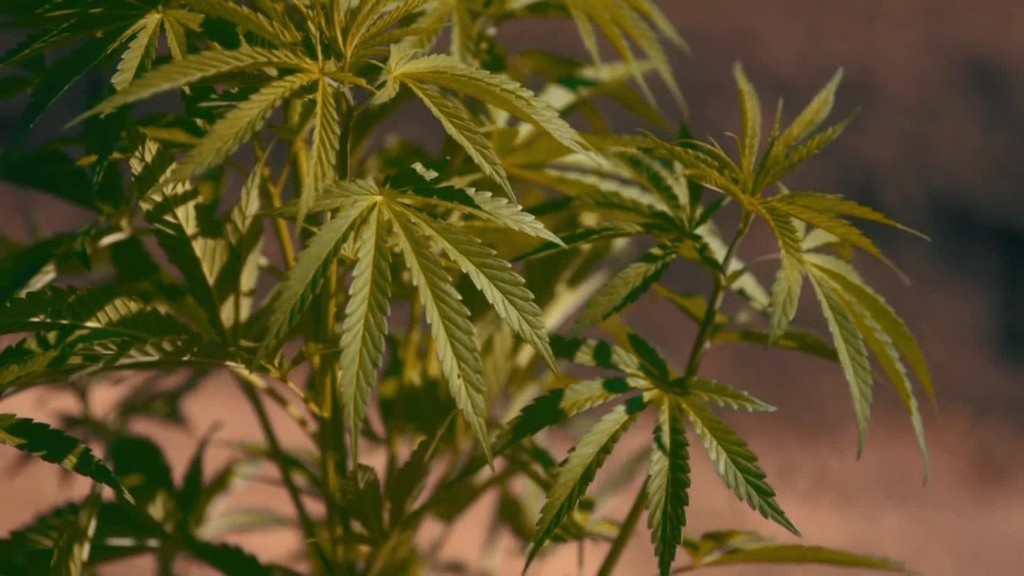 Canada faces one last hurdle to becoming the first G7 nation to legalize recreational marijuana.
Canada's Cannabis Act was introduced in the Canadian Senate Tuesday, its last legislative stop. The bill enjoys wide public support and the backing of Prime Minister Justin Trudeau.
"I think it is broadly recognized that criminalizing cannabis has been a failure," said Senator Tony Dean of Ontario, a sponsor of the bill. He believes it will pass by July 2018, if not before.
Retailers have been preparing to start selling legal marijuana in July, so the timing could be tight. But Canada's recreational marijuana market is expected to mean big dollars.
According to recent estimates from Marijuana Business Daily, an industry publication, annual sales for Canada's recreational marijuana market could range between $2.3 billion and $4.5 billion by 2021.
The Canadian market, with full federal support, still won't top U.S. revenues, where recreational marijuana is being legalized on a state-by-state basis.
Recreational sales for cannabis are expected to total $7.1 billion to $10.3 billion in the U.S. by 2021, according to Marijuana Business Daily.
These figures do not include expected, estimated revenue from medial marijuana sales in either country.
Dean believes the legal recreational sales will be able to begin almost immediately in July, despite the short legislative window.
Unlike legal U.S. states, which on average have taken more than a year to get their retail and tax infrastructure built, Canada will build on government-supported online sales that were implemented to support the country's medical marijuana industry.
Canadians buy their pot on websites and have it delivered.
Websites like Ganja Express and Buy My Weed Online and Emerald Health Therapeutics currently offer medical marijuana customers an array of cannabis products, from traditional marijuana that's sold by the gram, to concentrates and edibles.
Canadian cultivators are getting ready to meet the anticipated surge in demand when recreation customers could start ordering.
"We are very well positioned for July," said Nate Race, a management consultant with Premium Produce, a medical marijuana farm in British Columbia that has expanded its staff from about 70 to 100, so it can grow annual production from 14,000 pounds of marijuana to 134,000 pounds by the end of 2018.
Related: Canadian marijuana investors cheer dollar-per-gram proposal
California, where retail sales of recreational marijuana are supposed to begin in January 2018, would eventually account for half of all U.S. sales and would likely match Canadian sales just by itself, according to Chris Walsh, founding editor of Marijuana Business Daily.
This is why Nick Kovacevich, CEO of California-based Kush Bottles, which makes vaporizer equipment, said he has no plans to do business outside the U.S..
"We have a bigger market opportunity here in the U.S.," he said.
But marijuana's shaky legal status in the U.S. — the federal government prohibits it — means things could change quickly for entrepreneurs working in cannabis.
Related: Constellation Brands beer company buys stake in Canadian pot market
"In the U.S., the growth of recreational marijuana is artificially hampered by the fact that cannabis is illegal," said Walsh, noting that it creates issues with banks, which face restrictions against handling marijuana money.
"The growth that we're seeing in marijuana [in the U.S.] is only a piece of what it could be," he said. "The backing of the federal government in Canada is opening a lot of doors that are closed right now in the U.S."
Canada's move toward legalization has already inspired one U.S. company, the New York-based alcohol beverage producer Constellation Brands, to buy a 10% stake in the Canadian pot company Canopy Growth Corp. for $190 million.
John Kagia, a cannabis industry analyst for New Frontier Data, called the recent move towards Canadian legalization a "wake up call to all investors who were sitting on the sidelines, that this is really going to happen."
CNNMoney (New York) First published December 2, 2017: 12:08 PM ET
Article originally found at http://money.cnn.com/2017/12/02/news/canada-cannabis/index.html
Marijuana and CBD companies can't advertise on Facebook and Google, so they're getting creative – CNBC
David Bozin used to get cuts and scratches on his arms when it came time to bathe his golden retriever, Jax, who rebelled against the prospect of being dunked in water.
Then he learned that dogs, like humans, respond to the properties of cannabidiol, also known as CBD, a cannabis compound that helps the body relax without producing intoxicating effects. Bozin got to work on a line of CBD-infused dog products, including a dry shampoo and puppy treats, that he calls ZenPup.
But in trying to find customers for his new company, Bozin faces a unique challenge in today's market. He doesn't have access to Google, Facebook or Instagram (owned by Facebook), which have banned CBD and marijuana promotions. The two dominant online advertising platforms account for 57 percent of the U.S. digital ad market, according to eMarketer, and almost all emerging brands today count on Google's search ads and Facebook's precision targeting to efficiently get the word out.
"Facebook is not the end all, be all. Instagram is not the end all, be all," Bozin told CNBC. "Does that mean you're not going to see as much traffic at the get go? Sure. But at the end of the day the most important point is conversion," or getting people to buy your products, he said.
Marijuana is legal for recreational use in 10 states and Washington, D.C., and available for medical purposes in many others parts of the country. CBD is a bit more complicated because the laws are murky.
Currently, 47 states allow some form of CBD sales. The 2018 Farm Bill, which Congress passed this week, allows states to decide if CBD products made from hemp can be sold in their jurisdiction. However, it doesn't protect the products from the Food and Drug Administration, which can penalize companies for making inaccurate health claims.
"We avoid talking about anything too specific about what the product will do," said Cary Smith, senior vice president at agency North 6th Agency. "If you come from an educational standpoint, you skew towards less restrictions, and have a bit of a larger organic reach."
With so much uncertainty in the market, Google and Facebook have shied away from allowing marijuana and CBD advertising, taking a similar approach to how they handle tobacco and related paraphernalia. When it comes to alcohol, Google prohibits companies from targeting underage users or promoting unsafe behavior, while alcohol advertising on Facebook has to adhere to local laws.
In the absence of Google and Facebook, ZenPup has been forced to find alternative ways to launch its products. The co-founders, who worked in marketing and public relations, are spending time building relationships with media companies, high-end dispensaries and pet accessory retailers, along with other brands that might be open to partnering with a CBD provider. They're finding popular social media influencers, who can support the products organically on their accounts.
ZenPup has also focused on clean, attractive packaging so that it's appealing for "shelfies," or staged product photos that people post on their feeds.
"Those younger consumers are looking for something different from an aesthetic standpoint, that also is top quality and at a good price point," said Nicholas Weatherhead, ZenPup's chief marketing officer and co-founder.
Other approaches are available to CBD companies, depending on the specific industry. Hillary Wirth, media director at the agency Noble People, said there are plenty of ways to get your brand in the right place.
To promote Viceland's digital show "Weed Week," in April Noble People bought local and national TV ads with DirecTV and Comcast, as well as on channels like IFC , USA and BBC America, and focused on pornography site Pornhub. There are also digital ad networks like like Traffic Roots that allow marijuana and CBD ads.
"So you can't advertise on Facebook or Google – it's not the end of the world," said Wirth. "There are plenty of other media channels that will get you contextually next to relevant weed content."
Noble People got creative in other ways. The firm organized a Washington, D.C., Viceland event to allow people to "Smoke Weed with Jeff Sessions." But it wasn't the former attorney general — just a man from Wisconsin with the same name.
Another approach is storytelling and finding a narrative that can generate PR.
For example, branding agency Abel told the story of Charlotte's Web, a dietary supplement company named after Charlotte Figi, a young girl who suffered from epileptic seizures. With the help of CBD, Figi was able to to reduce her seizures and improve her health.
With "brands like Charlotte's Web, the founders, who are very positive about the cannabis opportunities, have been able able to use PR as a marketing channel," Abel CEO Julian Shiff said. "The word of mouth is so strong they are developing a tribe around their brand."
Sponsoring sporting events and concerts are effective ways to find brand resonance. Smaller gatherings can work as well. Recess, which makes a CBD-infused seltzer, holds information events at places like hip-hop yoga chain Y7 Studio and samplings at Rise by WeWork. The company is based around a beverage, but it's really trying to sell a lifestyle, said CEO and founder Ben Witte, who used to run mobile strategy for ad tech company AdRoll.
Witte said Recess has reached 50 times its projected sales this year, amounting to hundreds of thousands of dollars. The product is mostly sold online, but is also available in New York City stores.
"The most important thing is to have a clear mission and purpose," Witte said. "The best way to communicate that mission and purpose is not through a Google or Facebook ad."
Original Article at https://www.cnbc.com/2018/12/14/facebook-google-dont-allow-cbd-ads-so-zenpup-has-to-get-creative.html
How Cannabis Could Become The Next Real Estate Disrupter – Forbes
For a while it looked like the best thing to bring to a neighborhood was a new Whole Foods grocery store. One study showed that homes in these neighborhoods would appreciate at a much faster rate than if they were near a Trader Joe's (and both were better than a Starbucks). Another sign a neighborhood is on the cusp of revitalization is when the yoga studios start vying for space with the arthouses. Usually it is not long after that the expensive coffee shops and cupcake stores start showing up at street level. But now that so many states have passed laws favorable to the marijuana movement, the next big thing to bring a neighborhood back from the brink just might be the increasing number of organizations that work in the industry.
Downtown Los Angeles could be the first case study to see this phenomenon in action. Next month, a seven-story building in the heart of Los Angeles' Jewelry District will open up, filled with tenants who all have cannabis somewhere in their job description. The 67,000-square-foot Green Street Building (the name is in reference to its anchor tenant, the Green St. Agency, which works solely with clients in the marijuana industry) will house everything from co-working spaces to an art gallery, dispensary, restaurant, law firm, luxury spa and lounge. Real estate investment company Bow West Capital purchased the property last year for a reported $14 million. Once open it will be the largest real estate space dedicated to cannabis in the U.S.
"The buildings in [the Jewelry District] have not received the proper upkeep, allowing for low sale prices of the buildings but also requiring full renovations," said Matthew Rosenberg, CEO and Founder of M-Rad, Inc, the design team behind the project. "With the prosperity and funding in the cannabis industry on the rise, this is a perfect combination for this exciting new industry to make this area their home, with Green St. being the catalyst."
While there are not many residential properties for sale within the Jewelry District itself, data from Realtor.com shows the few that are on the market have a median asking price of $525,000. Surrounding neighborhoods vary quite a bit with the neighborhood of Florence-Graham about five miles away to the southwest seeing median list prices of $440,000 compared to Greater Wilshire a few miles to the northeast seeing median list prices of $1.7 million.
M-Rad took the 1913 building and completely renovated the interiors to create mixed-use spaces that cater both to the requirements of offices and restaurants as well as the unique needs of cannabis companies. They needed to create the right proportion of an open-plan design matched with a set of cloistered, secluded rooms for those who want privacy. Here are some images of the interior provided exclusively to Forbes.
For example one concept for behind the hidden door of the library bookshelf could be the Bud Bar, with a custom-designed table. (Interested? A Forbes contributor put together a Gift Guide which includes some of the most unique marijuana rolling papers, with some that are made from gold and others that look like money.)
The lounge, MOTA—which if, like me, you didn't know is a Spanish slang term for marijuana (at least one dispensary out there has ascribed the words Medicine Of The Angels to the letters, but the term doesn't have its origins as an acronym)—will complement the restaurant which may prepare cannabis-infused menu items and have a U-shaped bar designed specifically for potential cannabis tastings. It will also have fully transparent windows into the kitchen so guests can see the food being prepared. Sound-proof rooms are also available for private meetings and the Flower Room can be a designated smoking area. [Update: The design team followed up after this was published to clarify these features are just in concept stage and have not been confirmed or approved. No cannabis products will be sold on site based on current plans.]
"The companies who are part of the building are some of the biggest players in the industry," says Rosenberg. "Which will bring in high-level clientele and investors who may feel encouraged to invest in the development of the area. The building itself will host a number of cannabis-related programs such as cultural activities and gastronomic experiences which will attract new clientele." Some of the big names affiliated with the project are prolific investor Gary Vaynerchuck, who is a 50% stakeholder in Green Street Agency, and Vicente Sederberg LLC, dubbed The Marijuana Law Firm, is one of the tenants.
Typically neighborhood revitalization follows the pattern of stores opening up on a neglected city block one retail space at a time. But this model is different. By bringing a critical mass of companies to the neighborhood all at once, the sudden influx could accelerate the resurgence all the more quickly. Los Angeles' Jewelry District could become a major player in a matter of months, not years.
Follow me on Twitter @amydobsonRE
Article originally found at https://www.forbes.com/sites/amydobson/2018/11/27/cannabis-as-real-estate-disrupter-how-the-largest-marijuana-retail-space-plans-to-revamp-a-district/
[Winner] November 1, 2018 Giveaway (Episode 2)
Brady Shepherd wins our 2nd Rate.Review.Win! Giveaway!
hosted by Automatic Weapons