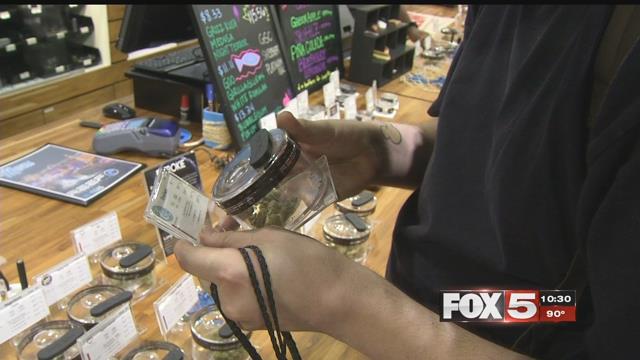 Marijuana is displayed for sale at a dispensary. (FOX5)
HENDERSON, NV (FOX5) –
The Henderson City Council unanimously voted to put money from marijuana shop sales toward the 39 public schools in the city.
A month after recreational marijuana sales kicked off in Henderson, city council officials unanimously voted in a resolution to give a percentage of recreational marijuana revenues to public schools in the city.
"The schools need it for before school and after school activities to help the kids stay in school," Barbara Agostini said.
The money would come from recreational marijuana business license fees and pour in to Henderson schools on a case-by-case basis.
Officials estimated they'll add $300,000 to the school budget after the first year of sales.
"We'll use our community education advisory board to help us with prioritizing the needs and our needs," assistant city manager Richard Derrick said. "The principals of each school will make an application for their individual student needs."
Derrick said the money could go to anything from after school tutoring to increased school security.
"It'll make a big difference for our community and others," Derrick said.
Henderson has five recreational marijuana establishments that would contribute to this fund.
"It's nice of Henderson to think about their schools, and to take care of their schools because it's a community about the schools," Agostini said.
Copyright 2017 KVVU (KVVU Broadcasting Corporation). All rights reserved.
Original Article at http://www.fox5vegas.com/story/36800839/marijuana-money-to-go-toward-city-schools-in-henderson